The LifeSafer© Portable & Home Monitoring Unit offers the ability to obtain evidential breath-alcohol test results with Positive ID to ensure compliance with the terms of abstinence programs.

The LifeSafer Portable and Home Monitoring Unit is an affordable monitoring system for individuals who need some form of alcohol monitoring or breathalyzer and:
do not own a vehicle.
require home and work monitoring in conjunction with an ignition interlock device.
do not to have access to a vehicle.
are under hard suspension.
are under house arrest.
are out on bond, pending DWI/DUI charges.
Portable and discreet design allows users to be monitored daily anywhere – in and outside of the home and on the job.
Anti-Circumvention Features – Voice / Hum Tone enabled in conjunction with the LifeSafer exclusive Target-Tracking Camera System thwarts circumvention attempts.
Simple to Use – just plug it in and blow when requested by the device.
Daily, Pre-programmed testing times determined by the monitoring authorities. Can also accept a test anytime the user desires.
Weekly or monthly scheduled downloading and reporting of all activity at convenient LifeSafer service locations.
Efficient reporting to jurisdication through the secure LifeSafer PLUS reporting system with secure and easy access to all Photographs and Testing Data.
Convenient – LifeSafer offers the most extensive network with 800+ Service Provider locations in the U.S. to support our clients with easy local monitoring.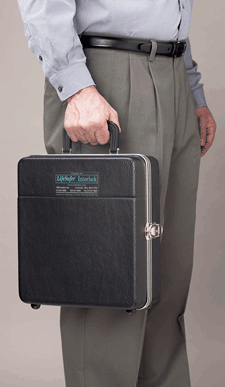 The LifeSafer Portable & Home Monitoring Unit, when used in conjunction with our ignition interlock device, can provide individuals the opportunity to stay employed, licensed and able to undergo treatment in lieu of jail or prison time.
The daily cost is less than a beer in a bar… Making the LifeSafer Portable and Home Alcohol Monitoring Unit affordable for long-term use, as a condition of probation – rather than a short-term alternative to incarceration.