Distracted Driving Poses Threat To Motorcyclists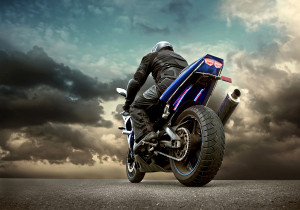 That smartphone in your hand has probably made your life a lot easier in many ways, and although it's a handy tool for your day-to-day life, it's easy to lose yourself and be distracted by it no matter what you're currently doing. When you're driving, those split seconds of distraction could mean the difference between life and death for others on the road with you.
Although there are 12 states including Guam, D.C., and the U.S Virgin Islands that ban hand-held devices while driving, thousands upon thousands of people across the United States still pick up their phones to talk or text while driving. Distracted driving is dangerous to all who share the road with the distracted driver, and it's even more dangerous to individuals on motorcycles.
Because May is Motorcycle Awareness Month and the roadways are slowly filling back up with summer motorcycle traffic, the National Highway Traffic Safety Administration and American Motorcycle Association would like to encourage drivers to be extra vigilant and stay on the lookout for motorcycles. Motorcyclists don't have the benefit of air bags and are not surrounded by the frame of a car or truck, and with only a helmet to protect them any crash they are in could be a fatal crash.
The American Motorcycle Association recommends that all riders wear safety gear, take training classes, and always practice safe riding. For vehicles, it's vital that you keep a safe distance from motorcyclists on the road and always double check for rider in your rear view mirrors before changing lanes.
The amount of motorcycles on the roads and highways in the summer means it's even more important to stay off your smartphone and avoid texting or talking while driving. Distracted driving makes it 23X more likely the driver will be in a crash, so putting the phone away and focusing your attention exclusively on driving is vital to keeping motorcyclists and other vehicles safe.