The industry-leading FC100 is the most widely used fuel-cell based
(alcohol-specific) ignition interlock device in the United States.
Removable, sanitary mouthpiece
Instructional indicator lights, audio indicator and multi-language written messaging
Utilizes state-of-the-art sensor technology
Rugged, durable construction
Direct wiring to ignition system by qualified installers; removable handset
Velcro mounted to dashboard
Modest design fits well in hand and in vehicle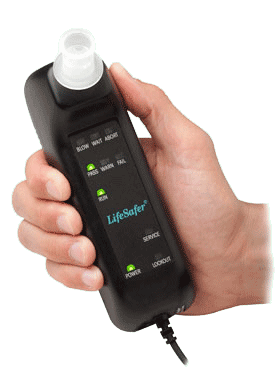 Interlock Features:
The LifeSafer FC100 ignition interlock employs "alcohol specific" technology that eliminates problems with failed tests attributable to cigarette smoke or vehicle exhaust.
The FC100 incorporates all of the important design elements of ergonomics, simplicity, reliability and specifically anti-circumvention. These features are explained below.
Pricing
In states that don't regulate the pricing of interlock devices, we offer highly competitive pricing. Because there are so many variables for pricing, call us for your specific price quote. We promise to offer you the lowest price possible including any offers that may be applicable to you, such as free installation and discounted monitoring fees.
Hum Tone
This technology requires the driver to deliver a hum resonance while blowing the alcohol test prior to starting the vehicle. It helps deter techniques that can mimic human breath or absorb alcohol. Remember, any tampering with the device will automatically register as a failed test.
Random or Rolling Retest
This feature is used to make sure the driver does not start drinking while driving the car or stop somewhere and leave the car idling. The client is first warned that they will be required to perform a rolling retest within six minutes. Refusing to take a rolling retest or a failure of the test will be recorded and sanctions such as honking of the car's horn and/or flashing lights will be imposed. Sanctions do not include shutting down the car so that it will not run.
Timed-Lockout
This feature allows the LifeSafer interlock device to be programmed to only allow the engine to be started during certain times. This is used if people are given certain hours that they are allowed to drive.
Events Log
This feature is a built-in memory chip that records all events associated with the device. All passed and failed tests will be recorded on the memory chip.
Service Reminder Reset
This feature gives the client adequate reminders that service will be needed soon on the interlock device. Failure to get service by the specified time will result in a lockout.
Vehicle Restart
This feature allows the driver a grace period if the vehicle stalls and has to be restarted outside of a designated retest time. This is a safety precaution for the driver.
Early Service Recall
Early Service Recall is a feature that informs the operator to return to the service location within a specified period of time because the alcohol sensor may be ready to fail.
LifeSafer FC100 Ignition Interlock Training
Need An Ignition Interlock Device?
LifeSafer offers the most user-friendly device on the market and sets the standard for ease, dependability and fair pricing. Our alcohol interlock devices meet and exceed the National Highway Traffic Safety Administration (NHTSA) specifications and enable you to continue working and going about your daily life. LifeSafer interlocks have been used by more than 600,000 people and are the most widely used in the U.S. today.