Mother Prevented From Cheating Ignition Interlock & Driving Drunk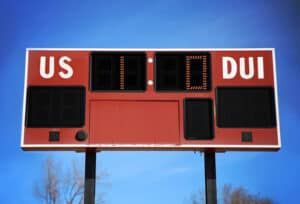 It's not often that an attempted DUI gets more press than a successful one. But a woman in Owasso, Oklahoma managed to garner more attention by failing to get behind the wheel while drunk that she would have had she been able to turn the key. An ignition interlock, or car breathalyzer, was one reason disaster was averted. Good and brave people did the rest.
The woman, Kayla Martin-Weliwita, had an ignition interlock (or IID, for ignition interlock device) in her vehicle, the obvious result of a previous DUI. After dining at the North Owasso Expressway Buffalo Wild Wings she tried to get her two daughters to breathe into her ignition interlock so she could start the engine, but they refused.
An ignition interlock prevents a vehicle from starting if the driver has been drinking.
She also tried to get restaurant employees to give a breath sample, but to their credit, they declined as well.
Police arrived, and Ms Martin-Weliwita was arrested not for drunk driving, but for public intoxication, and also for child abuse and neglect, which were observed at the scene.
One does hear stories about offenders with ignition interlocks managing to drive by getting other people to give a breath sample, but that's what they are, for the most part – stories. It's in no one's interest to put a drunk driver on the road, much less to drive with someone who is drunk. In fact the restaurant could have  been liable if an employee had granted the favor to Martin-Weliwita and she had ended up hurting someone.
Ultimately, despite the misfortunes to the mother and her kids, this is a success story – for ignition interlock technology.  Another drunk driving incident was prevented, not by the device's circuitry – though the devices are famously difficult to cheat – but by the offender's children, who refused to let their mother drive drunk, and by sensible restaurant employees who knew that the best place for this person was off the roads.
Ignition interlock technology can't fix all the problems that led to this unfortunate scene. That's not its job. What it can fix is the problem of keeping drunk drivers off the road. According to a recent MADD report, ignition interlock devices have stopped 239, 430 incidences of drunk driving in Oklahoma. Even without a failed breath test in this instance, we can surely add one more to that number.
For more Oklahoma ignition interlock information, including laws, pricing, and locations, visit the LifeSafer Oklahoma page