How much does an ignition interlock cost?
The average cost of an ignition interlock device in your state is about $2.50-$3.50 per day.
Ignition Interlock Costs
Basic ignition interlock cost in your state include the installation, the lease of the device, any mandatory state fees, and the cost to calibrate the device and share the data with your state monitoring authority on a regular basis. Find out more about your state requirements.

Need Financial Help?
Some states offer financial assistance for those who need help in paying for their interlock program. The easiest way to find out if you qualify is to call LifeSafer state experts at 800-634-3077.
The Value of LifeSafer
LifeSafer offers the best in ignition interlock pricing. We offer same day installation, online enrollment through No-Call Install™ and we only work with the best technicians in the nation. Find a location near you!
The LifeSafer Difference : Choosing Your Provider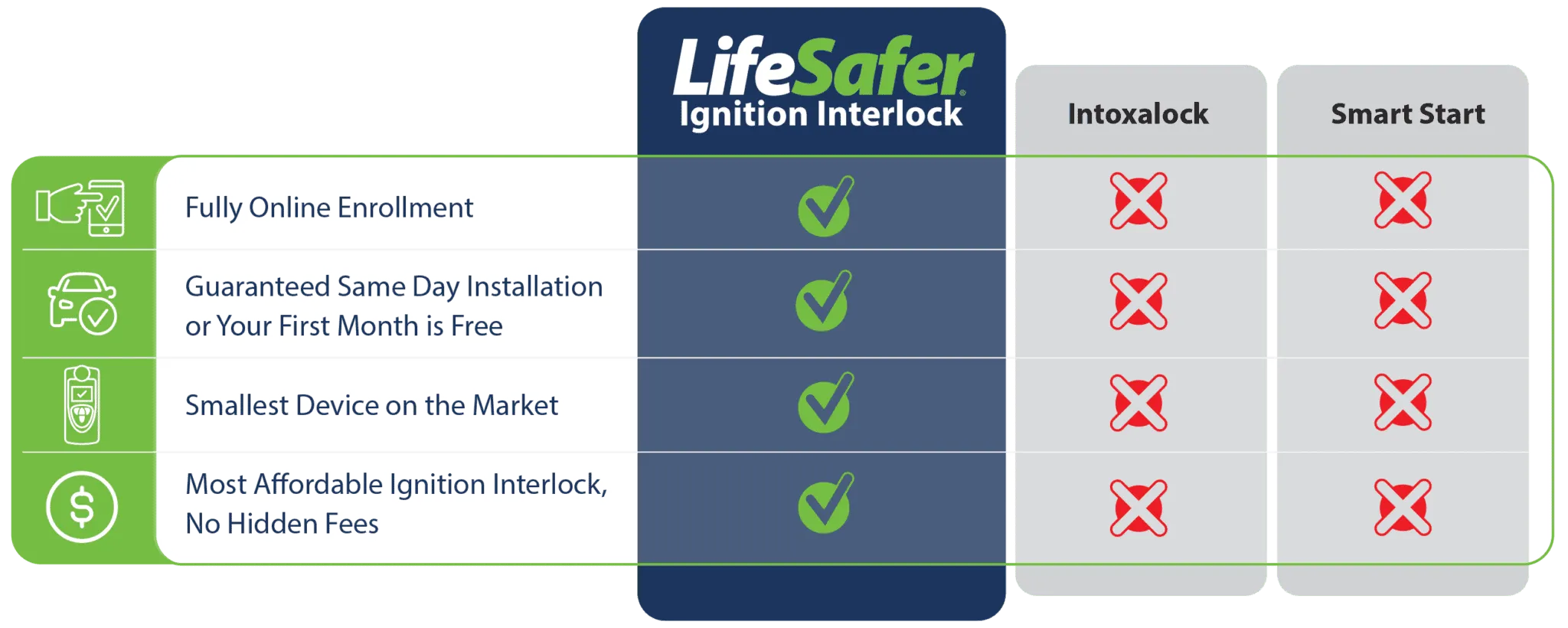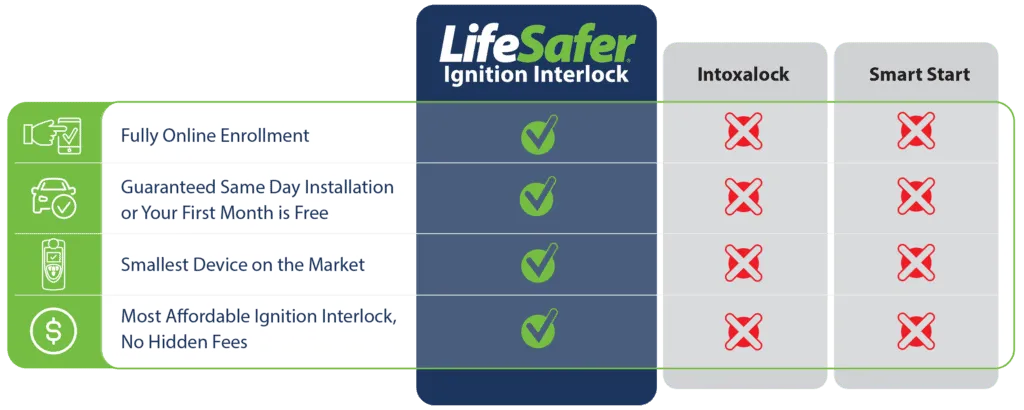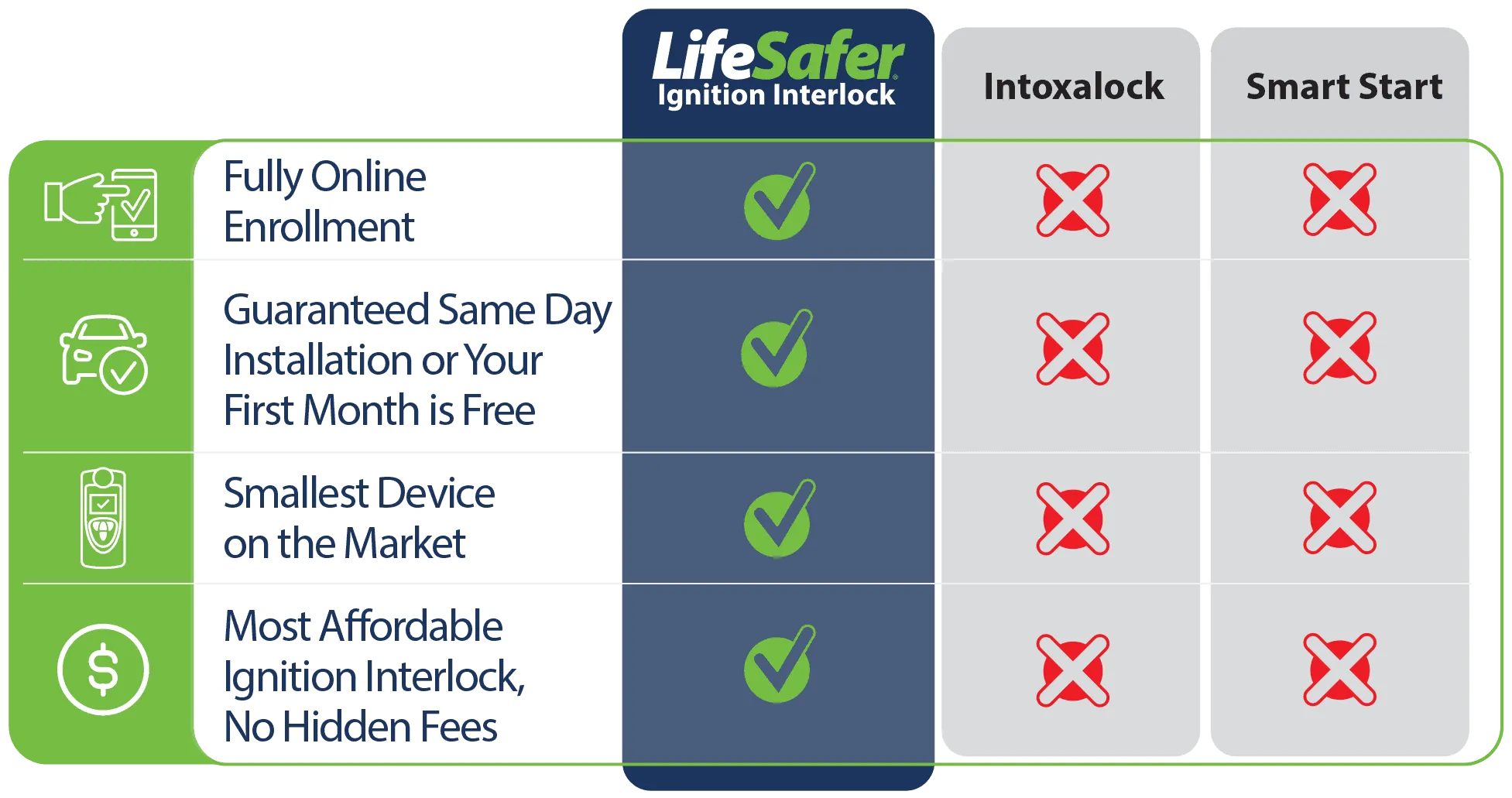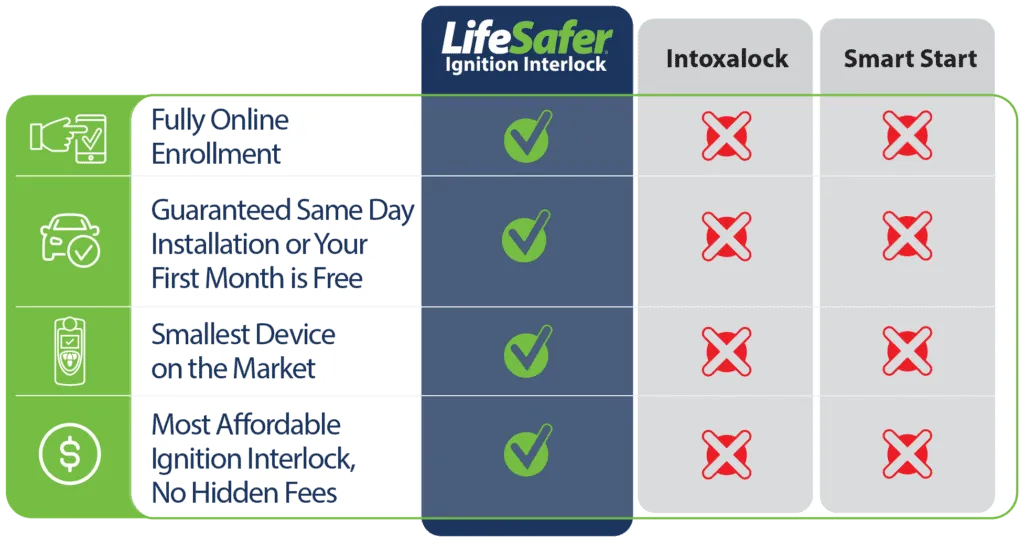 Other factors to consider when choosing a provider
LifeSafer Ignition Interlock devices are affordable interlocks for everyone. Our locations and price make us the choice for tens of thousands of drivers, and we have the best interlock on the market. Our competition, such as Intoxalock and Smart Start Ignition Interlock, may charge you a fee before they will set an appointment. That fee is non-refundable, even if you never install their device. At LifeSafer, we don't do that. Trust and honesty are important to LifeSafer and we will always be transparent in our pricing.
Our low-cost interlock is only the start. The value and difference come from how easy the device is to use, the service and support you are provided, and the accuracy and convenience of our ignition interlock program. LifeSafer always has you covered.
Paying for your ignition interlock device
Paying for your ignition interlock device has never been easier with LifeSafer. We offer the most affordable prices of any provider and make sure you know exactly what you are paying for ahead of time. No hidden fees like other ignition interlock providers. Pay online, over the phone, or by check. Find out more about pricing in your state here. Ready to get started? Enroll Now!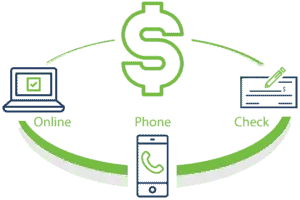 Ignition Interlock Installation Cost
As the person required to install an ignition interlock, you must pay all costs associated with the ignition interlock. The installation of your ignition interlock device is one of these mandatory fees that must be paid by the person required to install the ignition interlock. These fees vary from state to state but generally cost anywhere from $70-$175 for installation and between $60-$80 for calibration. Need a same day installation appointment? LifeSafer guarantees you a same day appointment or we will refund you the cost of your installation. To find out more about ignition interlock costs in your state, click here.
The Most Dependable Service Network
LifeSafer has over 1,500+ ignition interlock device installation locations nationwide for your convenience. LifeSafer's standards for our technicians are the highest of any provider. We only work with the best ignition interlock installation technicians to make sure you and your car are in good hands. The technicians go through rigorous training and are certified professionals at installing your ignition interlock device and making sure it is operating properly in your vehicle. Our technicians are experts on all vehicle types including Hybrid and Electric Vehicles, so no matter the car you have, your ignition interlock device will be installed by an properly by an expert. Find a location near you.
Ignition Interlock Pricing FAQs
Top-rated ignition interlock provider for over 30 years