How Much Does An Ignition Interlock Device Cost?
Typically an interlock program costs $2.50-$3.50 a day.


With an ignition interlock program, drivers are able to regain their driving privileges. Being able to get back out on the road — legally and safely — makes these devices valuable for both drivers and others using the road.
While these devices can help you avoid future or repeat DUI/DWI offenses, they're also occasionally installed by individuals looking to voluntarily add a safeguard in either their own or a loved one's vehicle. You install this device in the driver's seat and connect it to the engine's ignition system, preventing your vehicle from starting until you take and pass the test.
Basic costs include the installation, the lease of the device, any mandatory state fees, and the cost to calibrate the device and share the data with your state monitoring authority on a regular basis.

As the person required to install an ignition interlock, you must pay all costs associated with the ignition interlock. Some states have set up programs to assist low-income clients with the cost of an interlock. Although the cost will vary according to state, MADD estimates it costs approximately $70 to $150 to install and around $60 to $80 per month for device monitoring and calibration. The Centers for Disease Control cites average costs in 2006 of about $175 to install an interlock and $2.25 per day while the interlock is installed. Costs have increased in the fourteen years since that study, but according to the Bureau of Labor Statistics consumer price index, today's prices in 2020 are 27.47% higher than average prices since 2006, meaning the average lease cost of an interlock has kept pace with the inflating costs of other products.

LifeSafer strives to keep our costs on the low end of that scale and offers free installation in all states that allow it. Ready to find out more about the cost of an interlock in your state? Call us now at 800-634-3077.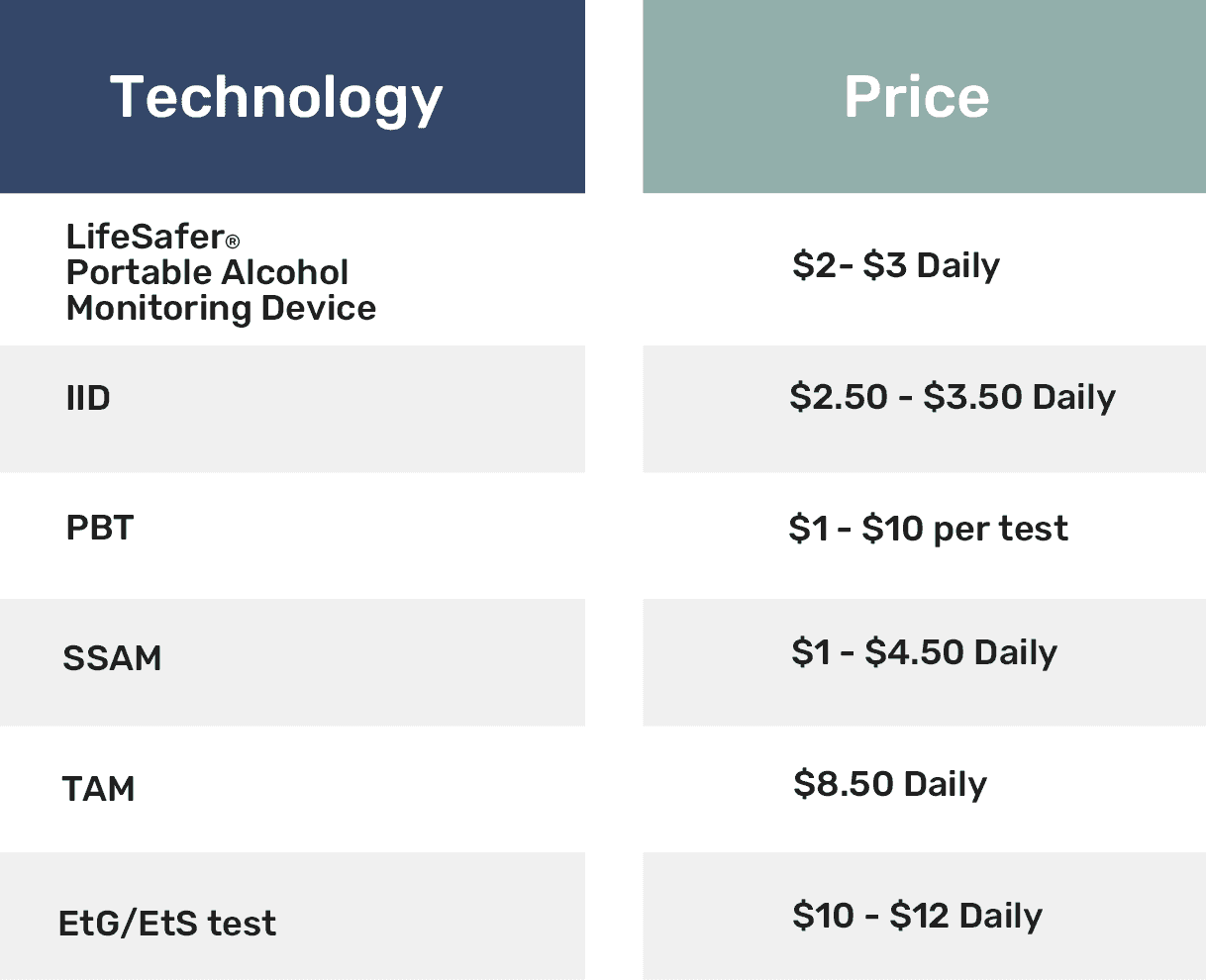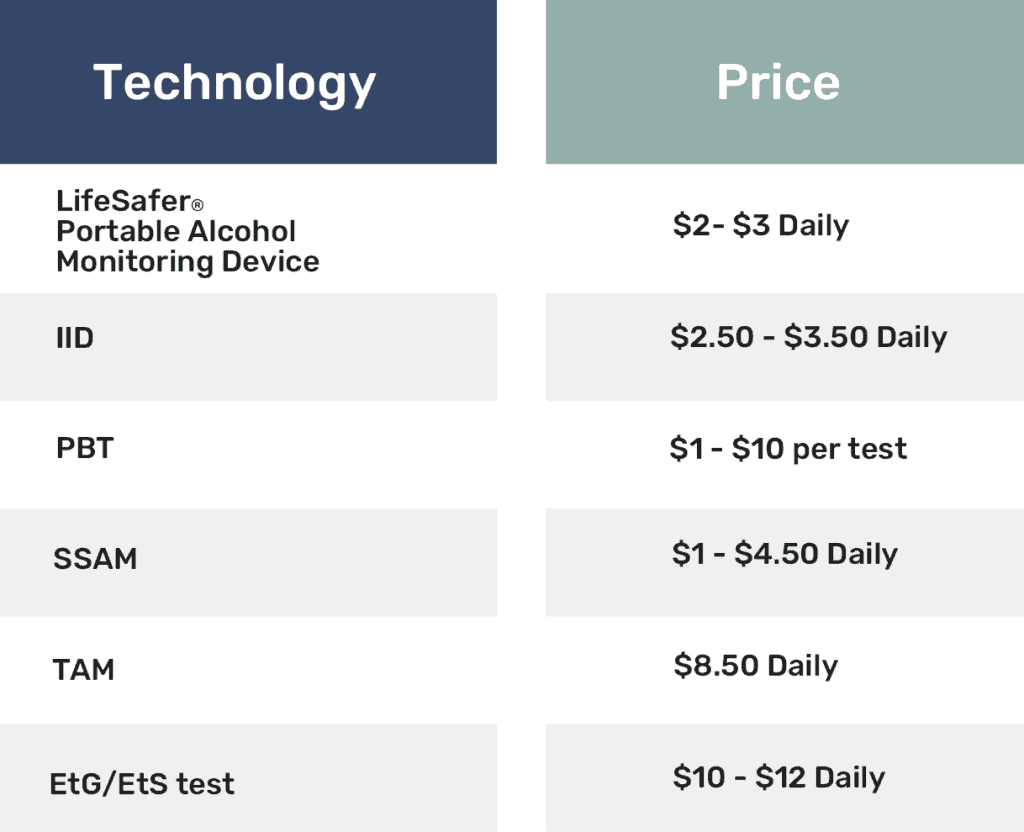 We know you want the best interlock experience at the best price. Finding a cheap interlock is only one consideration, though. The fact is that all providers must follow interlock device (IID) specifications set by their state. How much you will pay for an ignition interlock device depends on where you live and which provider you choose.

LifeSafer Ignition Interlock devices are affordable interlocks for everyone. Our locations and price make us the choice for tens of thousands of drivers, and we think we have the best interlock on the market. Our competition, such as Intoxalock and Smart Start Ignition Interlock, may charge you a fee before they will set an appointment. That fee is non-refundable, even if you never install their device. At LifeSafer, we don't do that. We explain all the fees and charges for an interlock installation on the phone without collecting any money until your device is successfully installed.

Our low-cost interlock is only the start. The value and difference come from how easy the device is to use, the service and support you are provided, and the accuracy and timeliness of the reports that are delivered to your state. LifeSafer excels on all these points.

When you consider interlock providers, make sure you check national locations, ease of use (including the size of the handset), customer support, and additional fees. At LifeSafer, we believe in providing premium customer service and reliable, discreet, affordable ignition interlock devices.
How Much Does an Interlock Cost in My State?
While there are several factors that influence the cost of an ignition interlock device, the state you live in can make a significant difference. Every state controls the cost of IIDs for both first-time and repeat DUI offenders. Drivers can expect to pay a different cost depending on the state or court jurisdiction the device is mandated in and whether or not they require additional features like a camera, GPS or real-time reporting.
Because each state has its own regulations, requirements and programs vary, the best way to price your interlock is to call us today. We'll offer you the lowest price possible. Make sure to mention any coupons or offers that you have. While many other providers include hidden fees, at LifeSafer we take pride in offering drivers upfront pricing. The price we offer is the price you pay — no surprises.


LifeSafer's customer support agents specialize by state so they are familiar with the steps you'll need to recover your license and work closely with the shops that service your product. Our team will make sure you understand clearly what the process and cost are to install, maintain and remove your ignition interlock.

Be prepared with basic information when you call as all providers should ask you for certain details (like VIN number, driver's license number) to make sure they are giving you information specific to your situation.
Do I Need to Pay for an Ignition Interlock Device Myself?
Both drivers who are legally required or interested in voluntarily installing an ignition interlock device must pay for the device themselves. While you'll have to pay for all costs associated with your new interlock device, you'll find that it's more affordable than you might expect.
Choosing a top-rated provider ensures you have access to budget-friendly options that let you get back on the road safely and legally. Here at LifeSafer, we make sure all our devices are competitively priced. With upfront, easy-to-understand pricing, you'll know exactly what to expect ahead of time.
What if I Can't Afford an Interlock?
Whether due to unemployment or financial hardship, it may sometimes be a challenge for drivers to manage the cost of their new ignition interlock. While the overall ignition interlock device cost is designed to be affordable, there are still various payment options available. In fact, depending on where you live, some states will offer financial assistance for those who need help in paying for their interlock program.
Depending on your eligibility for certain qualifications, ranging from employment status to household income, you could qualify for either an exemption or financing program.
Here at LifeSafer, our team can help you understand your eligibility and payment options. We'll make sure you have access to the financial assistance you need to get back out on the road.
The easiest way to find out if you qualify is to call LifeSafer state experts at 800-634-3077.
Sample Program Fees
Be aware there are a few parts to the price of an interlock program. While there are different fees associated with having an ignition interlock device installed, the cost of driving legally and keeping others on the roadway safe is invaluable.
There will be some fees associated with installation and any necessary monitoring and calibration. LifeSafer never charges additional installation fees for newer vehicles, push-starts, or hybrids. Instead, you can count on us to help you find a compliant, budget-friendly option.
Reach Out Today to Learn More About Our Ignition Interlock Costs
With high-quality devices, convenient service locations and 24/7 customer care, LifeSafer is here to guide you through every step of the program.
Have any questions about the cost of an ignition interlock? Give us a call at 800-634-3077 to get started today.