A DUI Could Mean a 'Scarlet Letter' License Plate
Ohio and Minnesota have adopted policies and laws with regard to special license plates for those convicted of DUI. Legally, the requirement for special license plates is known as license plate impoundment. However, most people know the restricted license plates better as 'party plates' or 'whiskey plates'.
Proponents say the plates serve to help other drivers and law enforcement aware of a potential high-risk driver on the road. Opponents say the plates do nothing more than humiliate an offender and brand them with a 'scarlet letter' and that it is unfair to put the plates on vehicles that are driven by multiple people in a household.  Opponents also say putting the plates on vehicles which are also used for small businesses is excessive since the reputation of the business can be permanently tarnished.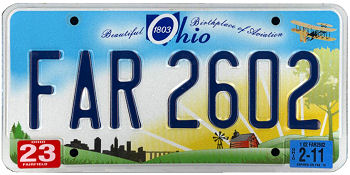 Ohio was the first state in the United States to require the plates in 1994. Ohio's restricted license plates, which have been in use since 1967, are bright yellow with red numbers.   In Ohio the plates are required for any DUI conviction with a BAC .17 or higher, as well as second and beyond convictions.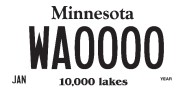 Minnesota's restricted license plates are white with blue or black text. In Minnesota the plates are required for drivers who've had two or more DUIs in a ten-year period.  Since the numbering on Minnesota's special plates begins with 'W', many people refer to the plates as 'whiskey plates'.
Georgia requires a special license plate in certain circumstances, but those plates are not a special color.
Those required to have the special license plates turn in their current plates to the Department/Bureau of Motor Vehicles in exchange for the restricted plate, which must be used for the duration of the license suspension, whether an administrative suspension or when imposed by the courts.
Oregon and Iowa in the past had special license plates for DUI offenders, but both programs were discontinued in 1994 and 1995.
In the last two years seven states have introduced their own legislation in the house and/or senate to require special plates for certain alcohol-related offenses:
Tennessee (SB 2032, failed)
Washington (HB 1955, still in process)
South Dakota (SB 116, failed)
Maryland (HB 657, failed)
Iowa (IA A 158, failed)
New York (NY A 545, still in process)
Washington (WA H 1955, still in process)
What do you think of special license plates for DUI/DWI offenders? Do you think they currently do or could improve safety on the roads or do you believe the plate requirements are only in place to embarrass offenders?