Using a LifeSafer ignition interlock is easy — more than 750,000 people have done it — but there are a few things you need to know. At your installation one of our experienced technicians will take you through the steps so that you can operate the device without a hitch. Here is what you need to do in order to start your vehicle with a LifeSafer ignition interlock:
Power On…
When you enter your vehicle, turn the key to the "on" position (do not start the car). When the device is ready, the green "blow" light will flash, and you will hear a beeping sound. You have one minute to blow into the device, or it will be necessary to start the test again.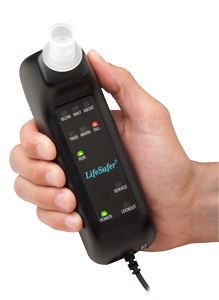 Test…
Relax and blow steadily into the device while humming a tone for 5 to 7 seconds (during installation you will have a chance to practice so that you know how best to do it). The device will emit a tone, indicating that you are doing the test correctly. Continue blowing until the tone stops. A green light "Pass" will flash and another tone will sound, indicating that you are done.
… and Go:
When the green "Run" light flashes, you can start your vehicle and drive. The device will stop flashing and display a solid green light while you are driving.
Aborting:
If you don't hum or blow correctly, you might register an Abort. A tone will sound and a red light will flash. This is not a failure. You merely need to wait about 45 seconds for the device to reset before testing again.
Watch the short video below for a demonstration of how simple it is to use a LifeSafer ignition interlock. For more information visit our FAQ section.