Cold Weather and Your Ignition Interlock
In average temperatures, LifeSafer Ignition Interlocks warm up in under 20 seconds. We know you have places to go so we designed our interlock to make your experience fast and easy.
But what about when the weather gets colder? 
Annoyed by your interlock warm-up time? LifeSafer Ignition Interlock is designed to make your experience fast and easy.   
Lifesafer's device specifications mean that warm-up times are under 3 minutes in temperatures as low as -40 degrees. Our engineers added features that get you on your way quickly no matter what the weather.
Multiple heater elements keep all the parts of the device warm to reduce the amount of time your unit needs to warm up in extreme weather. We paid attention to how much this drains the battery, and made sure our units don't draw too much current from the battery in cold weather.

Other devices drain your battery quickly because they don't automatically go into sleep mode. LifeSafer Ignition Interlocks save car batteries by being pre-programmed to go into sleep mode from the day it's installed. No need to adjust the device manually.  

You can pre-program your LifeSafer Ignition Interlock for up to three warm-up times that will get the unit ready and keep it that way for 20 minutes. This means when you are ready, so is your interlock. 

Determine the best times for warm-up – if you regularly leave for work or school at a certain time in the morning, or leave the office for the day at 5, then use those as a guide for when you want to set the units pre-program times.  

Here are step by step instructions on setting warm-up times for your in-car breathalyzer: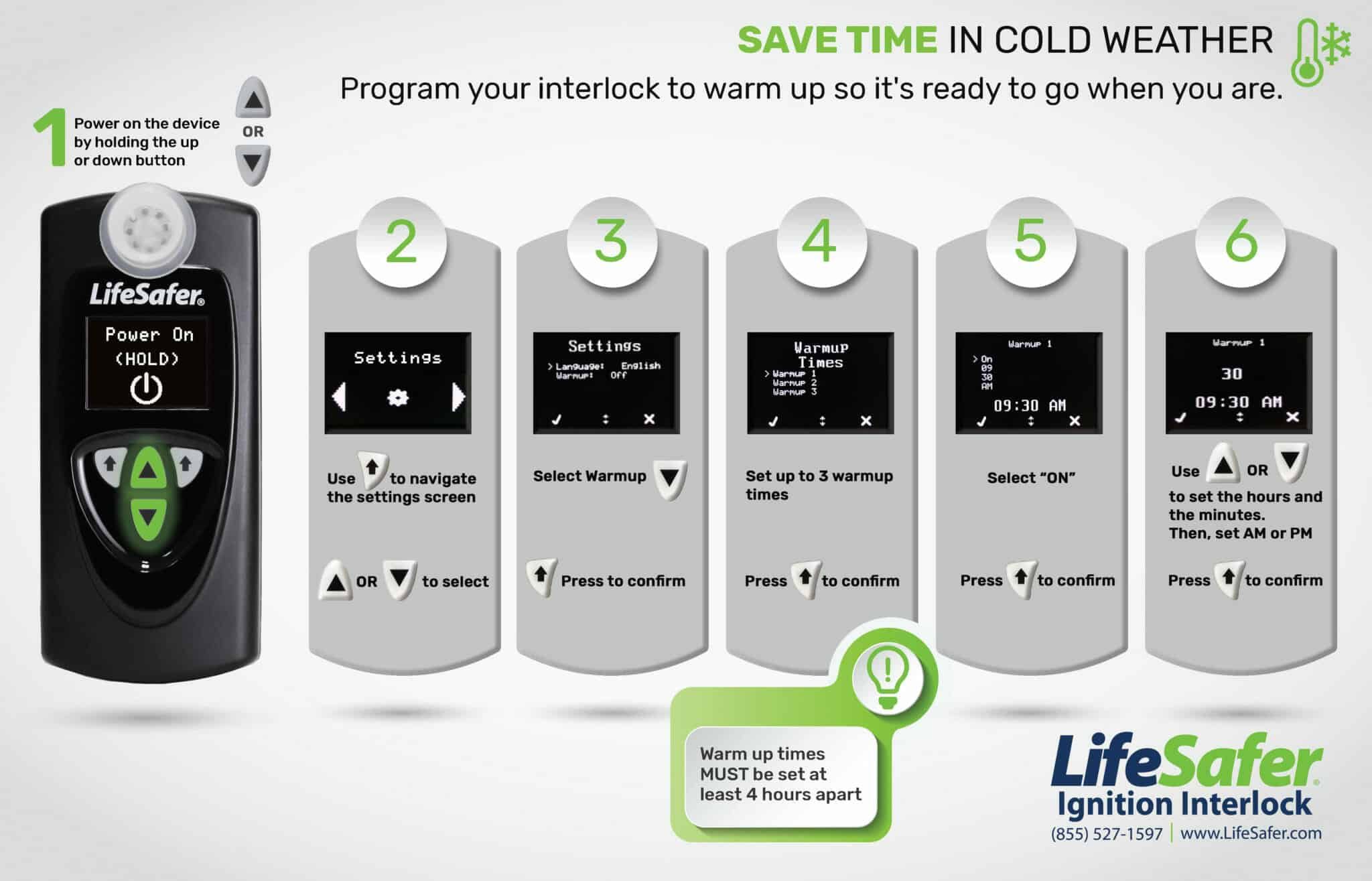 Please keep in mind:
It is critical that the BAIID handset, mouthpiece, or connector is not allowed to lay on the vehicle floor, especially in freezing or wet weather as this may damage the internal components.

Don't leave the mouthpiece in the handset when exiting the vehicle. If your mouthpiece was in your vehicle overnight, inspect it for ice or moisture. Use a replacement mouthpiece and dry the old one for reuse

Do not use a windshield washer fluid that contains de-icer with windows rolled up prior to the test.

Do not attempt to use jumper cables on another vehicle or your own as this may cause voltage fluctuations which could result in a violation or early recall.
For more useful information on successfully using your ignition interlock, check our FAQs.